Doomsday Book by Connie Willis was the 102nd official Sword and Laser Book Club selection.
Reading period: Nov 1, 2017 - Nov 30, 2017
How/Why was this book chosen: It was chosen in a poll on Sword and Laser's Patreon page from 4 Connie Willis books.
| Votes | % | Book | Author |
| --- | --- | --- | --- |
| 59 | 43.7 | Doomsday Book | Connie Willis |
| 50 | 37 | To Say Nothing of the Dog | " " |
| 14 | 10.4 | Blackout/All Clear | " " |
| 12 | 8.9 | Fire Watch | " " |
| 135 | | | |
Sword & Laser Goodreads Group Discussion of Doomsday Book
Doomsday Book by Connie Willis Edit
For Kivrin, preparing an on-site study of one of the deadliest eras in humanity's history was as simple as receiving inoculations against the diseases of the fourteenth century and inventing an alibi for a woman traveling alone. For her instructors in the twenty-first century, it meant painstaking calculations and careful monitoring of the rendezvous location where Kivrin would be received.
But a crisis strangely linking past and future strands Kivrin in a bygone age as her fellows try desperately to rescue her. In a time of superstition and fear, Kivrin--barely of age herself--finds she has become an unlikely angel of hope during one of history's darkest hours.
Connie Willis draws upon her understanding of the universalities of human nature to explore the ageless issues of evil, suffering, and the indomitable will of the human spirit.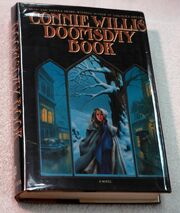 Ad blocker interference detected!
Wikia is a free-to-use site that makes money from advertising. We have a modified experience for viewers using ad blockers

Wikia is not accessible if you've made further modifications. Remove the custom ad blocker rule(s) and the page will load as expected.