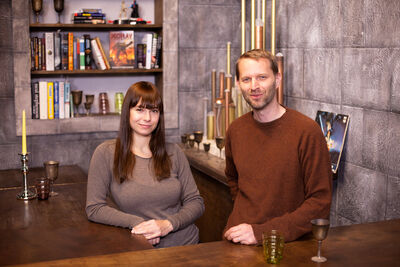 Veronica Belmont and Tom Merritt have been hosting the audio edition of The Sword and Laser since February 2008, and the video edition on YouTube since April 2012.
Veronica and Tom met while they were both working at CNET Networks, where they co-hosted the technology podcast Buzz Out Loud with Molly Wood. With their shared love of all things science fiction and fantasy, they decided to create a new online book club dedicated to genre fiction. Sword & Laser was born!
Traditionally, Veronica is known as the "sword" of the team, while Tom is the "laser."
Currently, Tom and Veronica also host several other podcasts and video shows online when they're not working on Sword & Laser. Tom hosts Tech News Today for the TWiT Network, FourCast with Scott Johnson, and FrameRate with Brian Brushwood. Veronica joins other geeky-minded ladies (Felicia Day, Bonnie Burton and Kiala Kazebee) every month for the Vaginal Fantasy Hangout on Google Plus.  She previously hosted the weekly tech help and how-to show Tekzilla with Patrick Norton, as well as Fact or Fictional, TWiT.tv gaming show Game On!, Qore, Mahalo Daily podcast, Buzz Out Loud.
Ad blocker interference detected!
Wikia is a free-to-use site that makes money from advertising. We have a modified experience for viewers using ad blockers

Wikia is not accessible if you've made further modifications. Remove the custom ad blocker rule(s) and the page will load as expected.