The Brand  by Bryan Alexander Benson  was the alternate pick to the official Sword and Laser Book Club selection A Dance of Cloaks  by David Dalglish

Reading period: Apr 1, 2014 - Apr 30, 2014

How/Why was this book chosen:
It was chosen by Veronica and Tom because it was written by Bryan Alexander Benson who got to pick this months book through his pledge for Sword & Laser's Kickstarter for season 2 of the video podcast.
Sword & Laser Podcasts and Videos:
 Kick Off: 
S&L 169
   Wrap Up: 
S&L 173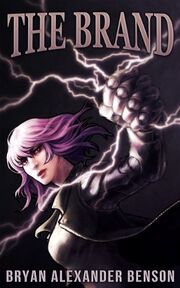 The Brand by Bryan Alexander BensonEdit
In lands of magic and steam power, two nations, the Order and the Eria Kingdom, are engaged in a bitter century old conflict with not only each other, but also the vicious race of creatures known as the daeryc. With the exception of scattered daeryc attacks, the people have known an uneasy peace for a short time, but a storm is looming on the horizon that may tear that apart. Ciel is an Exorcist; a powerful, mistrusted warrior that fights with spiritually imbued weapons. Using the power granted by a mystical brand given by the Order, she channels lightning into her mechanical arm to defeat the daeryc monsters. She has become comfortable in her duty of protecting the followers of the Order, but everything is about to change. The Exorcists are on the verge of extinction, and the daeryc are gaining in power. When Ciel discovers a hidden plot that makes enemies of friends, she must take desperate actions to defend what she believes in, even if that means she has to swallow her pride and team up with the most unlikely of allies.