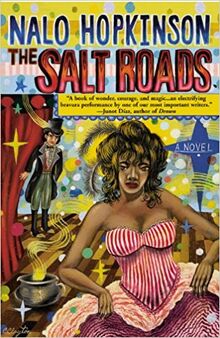 The Salt Roads by Nalo Hopkinson was the 93rd official Sword and Laser Book Club selection.
Reading period: Feb 1, 2017 - Feb 28, 2017
How/Why was this book chosen: It was chosen by Veronica
Sword & Laser Goodreads Group Discussion of The Salt Roads
The Salt Roads by Nalo Hopkinson Edit
THE SALT ROADS transports readers across centuries and civilizations as it fearlessly explores the relationships women have with their lovers, their people, and the divine. Jeanne Duval, the ginger-colored entertainer, struggles with her lover poet Charles Baudelaire...Mer, plantation slave and doctor, both hungers for and dreads liberation...and Thais, a dark-skinned beauty from Alexandria, is impelled to seek a glorious revelation-as Ezili, a being born of hope, unites them all. Interweaving acts of brutality with passionate unions of spirit and flesh, this is a narrative that shocks, entertains, and dazzles-from an award-winning writer who dares to redefine the art of storytelling.
<-Previous Pick (The Three-Body Problem)                                                    Following Pick (Gateway)->